"Traveling by motorbikes? Please, I couldn't even drive a bicycle on a flat road without crashing into somebody. Why would you expect me to go up those scary-looking high slopes on a motorcycle, on my own? What about the heavy rain and extremely crazy hot summer heat? Turning myself into a street beggar is not my ideal plan for this holiday! So I'd better stay at my sweet home and turn on some Netflix episodes."
Are you serious? You're gonna bury your most beautiful youth facing the four blank walls, while your friends are all painting the town red out there? If driving a bike is your biggest concern, why not take up a 4×4 drive in a modern and well-constructed truck in Vietnam?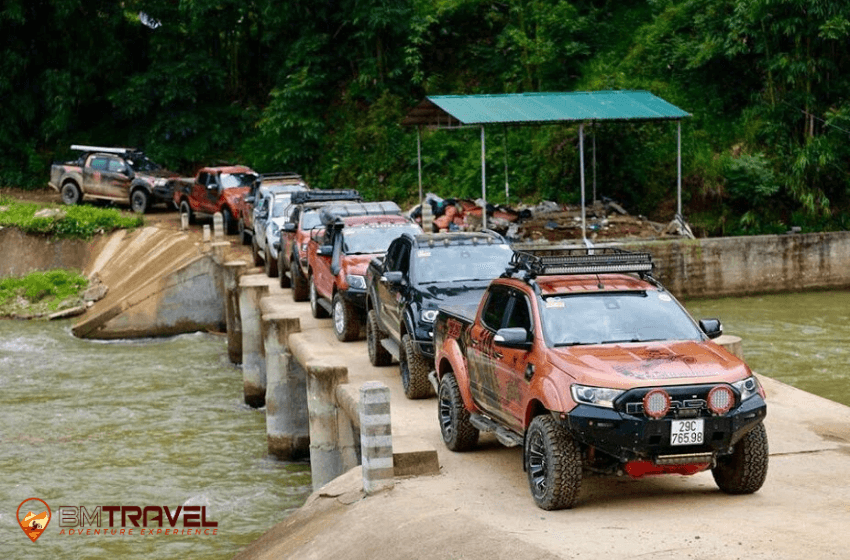 What Are Vietnam 4×4 Tours?
Let's start with some basics about this type of transport first, shall we? 
Instead of traveling on a motorbike like the majority of solo riders do, get ready to establish a new special bond with this new four-wheel "friend". A 4×4 drive requires the support of a 4×4 vehicle to bring you the best off-road riding experience. 
Imagine this out-of-the-box type of traveling not only offers you the same thrilling and refreshing sensation like a motorcycle does while conquering off-the-beaten-path roads, but also ensures more safety, comfort, and flexibility! Best of both worlds, isn't it?
Thus, if you've been dreaming of sitting behind the wheels of a Ford Ranger or Isuzu Dmax "babe" while passing through Vietnam's most spectacular sceneries, don't ever let this valuable chance slip off your hands! 
Of course, there are tons of benefits that make 4×4 vehicles stand out in the battle of Cars vs Motorcycles. Let's break things down little by little with me! 
A Mighty "Hero" for Off-road driving
There is no doubt that 4×4 vehicles have an advantage over 2-wheel ones when it comes to the extra power and a higher level of traction. No matter what challenges you are throwing at it, driving through dense mud or climbing up mountain slopes, this mighty "hero" never bows his head to yield.
Keep you safe and sound
It's pretty apparent to see who's the winner of this round, right? A 4×4 car, built with elevated height and sturdy construction in mind, would add extra safety and protection if some unexpected collisions occurred and caught you off guard. The bigger the car is, the less impact you are likely to receive. That's common sense!
Spacious room for bring-along equipment
Longing for a BBQ party at the top of the mountain? Load up the truck with your favorite griller and necessary tools to wow your companion with some smoked deliciousness! Take the burden of carrying hundred-kg luggage off your shoulders, literally!
Extend your network of friends
As a 4×4 vehicle can accommodate more than two people, get ready to laugh your head off with your new like-minded companions, and create the best memories ever. Sharing is caring, everyone!
Taking up a 4×4 drive is deemed to be a double-edged sword despite all those tempting advantages mentioned above. Why so? 
The maintenance, replacement, and fuel costs can be a pain in the neck compared to motorbikes. But you get what you pay for!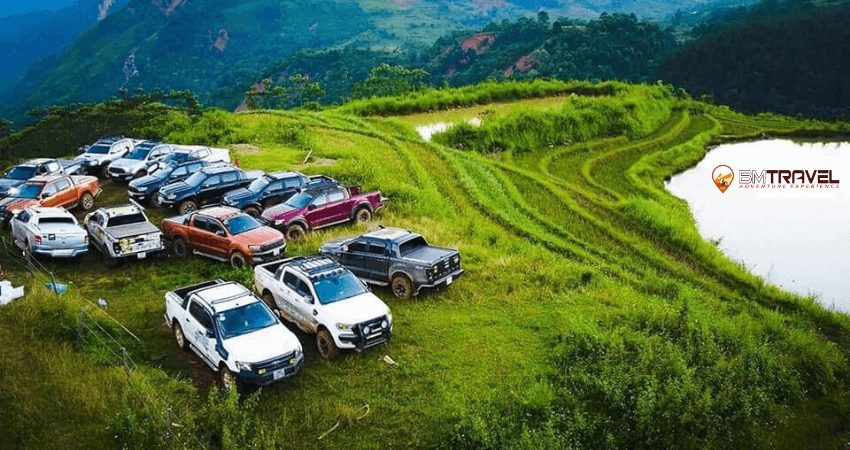 What are the best companions for a 4×4 drive? 
Here comes the most anticipated part – the best "sidekick" for an unforgettable 4×4 drive in Vietnam! 
FORD RANGER 
You can't go wrong with a Ford Ranger 3.2 by your side! In terms of total capacity, the 3.500 kg towing capacity and 1.3 tons maximum payload are born to defeat even the most challenging obstacles with the utmost ease. Not to mention the automatic adaptation to tackle the changing force while driving.
Besides, thanks to the truck's 800mm water wading feature, it's able to handle any types of roads. Hence, there is hardly anything that can prevent you from getting the jobs done in the blink of an eye!
What's even better? An upgraded version of the suspension system and ultra-high steel chassis are equipped to assure a smoother and easy-to-handle ride. Thus, your butt is well taken care of while riding on bumpy and uneven terrains! That's already a winning point for me over motorbikes!
ISUZU DMAX
The second "muscular" guy on our list is the charming ISUZU DMAX! Let's discover what makes most riders fall head over hills with this 4×4 model!
Featuring a down-to-earth towing capability, along with a newly enhanced diesel engine and a six-speed gearbox, this truck is designed to undertake stubborn road surfaces without the slightest hesitation and deliver economic fuel consumption. No more worries about going bankrupt just for driving a car!
Moreover, there is no need to sacrifice your comfort as DMAX is well-constructed with a comfortable and spacious room for both passengers and their luggage, plus the easy-to-access touchscreen and switches for better control overall.
What about safety? Every DMAX model comes with six airbags and side-curtained coverage to minimize the impact during a collision. Also, electronic stability plays a crucial role in controlling the skid level by automatically applying brakes to all the wheels. What a thoughtful design, isn't it?
FORD EVEREST
What could be better to test the fantastic Ford Everest's performance with its well-acclaimed diesel engine than a 4×4 tour to the wilds of Vietnam's Northern lands?
The list of benefits seems to be endless, starting with autonomous emergency braking capable of detecting pedestrians, adaptive and user-friendly control, traffic signal recognition, seven airbags for extra safety, world-standard HID headlights, rear parking sensors, and ending with a reversing camera for better on-road vision.
Everest also releases its 4×4 models with noise reduction in mind thanks to the built-in microphone that dulls the roar of a diesel engine. The towing ability of 3100 kg shows no sight of inferiority and matches perfectly with an 80-liter fuel tank and a standard spare tire.
That's not enough for you? How about a 5-year warranty over unlimited driving kilometers, with service durations up to 12 months or 15.000 km! That seems too good to be true, doesn't it? 
Final Verdict
If you aren't keen on having your good-looking appearance "ruined" by the cat-and-dog rain and merciless summer heat, a 4×4 drive is a perfect alternative to admire magnificent natural sceneries in the comfort and safety of a car! 
Don't forget to save my article for later reference when browsing around for your ideal "companion"! Do share the exciting stories on your first-ever 4×4 traveling trip with others in the comment section below, and stay tuned on my next post about what to plan for your upcoming 4×4 drive!