Not only for the beautiful landscapes but also Vietnam has many various cultural. Today, we are discovering about the Vietnamese Desserts that's around Saigon, not gather in one place.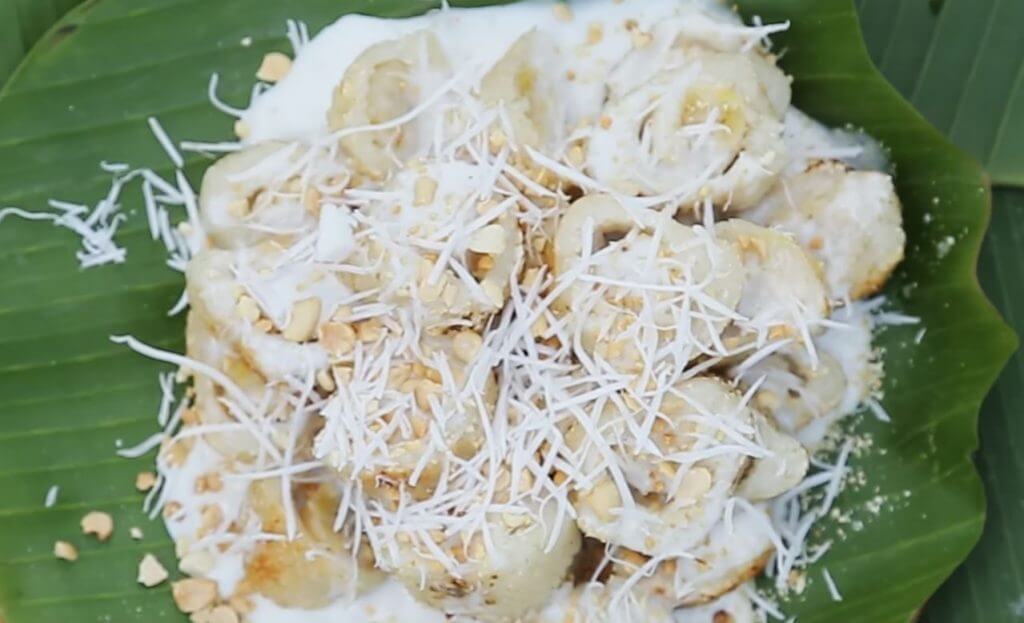 If you are a sweet lovers, congratulations, Vietnam are very famous of street food, especially is Desserts. There are many flavors, taste inside the dishes. Most of Vietnamese Desserts were made by sugar cane, tropical fruits, rice and coconuts.
Traveling to Vietnam without trying the best 5 desserts are the serious losses. We will discuss it right now.
1. Che (Vietnamese Sweet Soup)
Che are very popular in the local activity of Vietnamese, this dessert is the super refreshing against the burning hot in Vietnam. There are more than a hundred types of Che. You can try it in a bowl or a glass with hot or cold that depend on your choice.
The materials make Che are very diversified such as: jelly, seeds, fruit, beans, coconuts, vegetables, milk, etc. Having a bowl of Che on the burning hot after lunch are the best experience to revive yourself. You can have it in the street vendor or a sweet shop in Saigon. Don't worry about to find it, Che sells everywhere in Saigon. Some of occasions or holidays like First birthday, Lunar New Year, meeting family, etc. they will seat together and having Che and tea.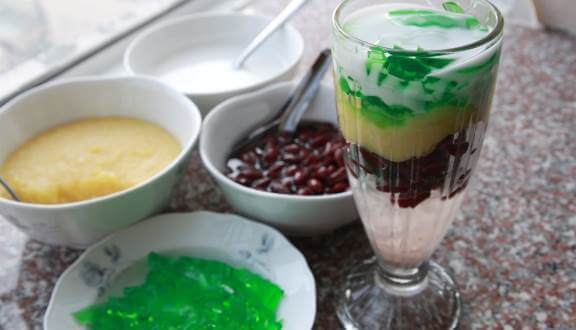 The colorful of Che are very attractive with foreigners even a local people. There are some of famous Che that travelers should try if visit Saigon:
Dau Den – Coconut syrup and black bean sweet soup.
Buoi – Pomelo sweet soup
Bap – Corn pudding sweet soup
Ba Mau – Three color of bean sweet soup.
The best sweet shop in Saigon:
Xoi Che Bui Thi Xuan, 111 Bui Thi Xuan, District 1
Ha Ky Chinese Sweet Shop, 138 Chau Van Liem, District 5
Hot Che shop, 50 Ly Chinh Thang, Ward 7, District 3
Cambodian Sweet shop in Ho Thi Ky Flower Market.
2. Flan Cake, Coconut Jelly (Rau Cau Dua)
I said already, Coconut is one of the popular ingredients in Vietnam, they often add coconut syrup or anything relates to coconut to make the dishes more sweet and good smell. Not only in Vietnam, you can eat and drink a raw coconut that's no need to cook in any tropical country. Trying Coconut Jelly, you will feel the fresh, cool of coconut and the good smell of it that's difficult to forget.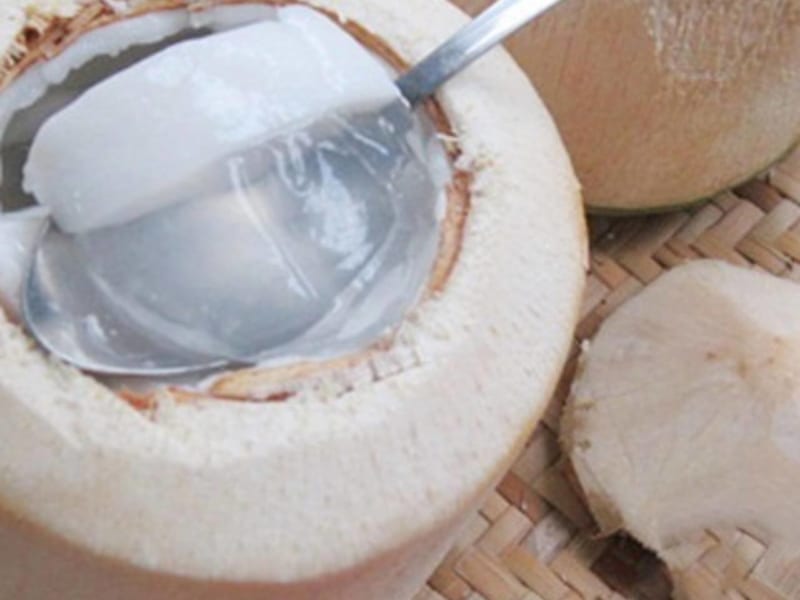 As for the Plan Cake, this cake was made by eggs, sugar after cooked will become a caramel, a little bit coffee to decrease the sweet of Flan Cake. It's very tender, after having a first bite, you will see the good smell of coffee combine with the sweet of caramel and eggs. Almost Coconut Jelly and Flan Cake will sell together. You will have a chance try two of this on one dishes are ok. If you hate the bitter of coffee, you should say with them add more condensed milk.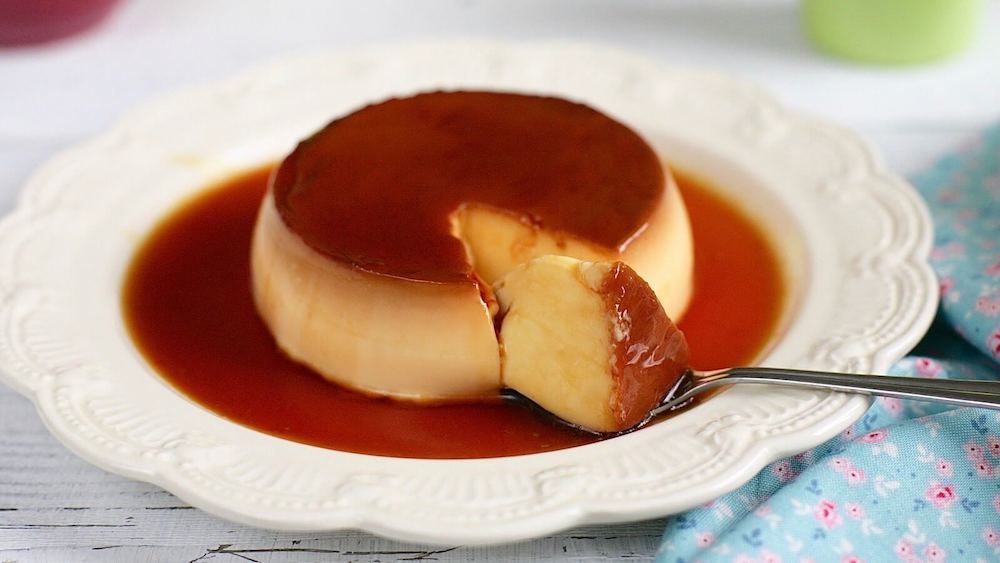 The best Flan Cake and Coconut Jelly in Saigon:
Ho Thi Ky Market, District 10.
Binh Thuan Flan Cake and Coconut Jelly , 2 Vu Huy Tan, Binh Thanh District.
Quynh Hoa Flan Cake, 194 Hoang Dieu, District 4.
3. Durian cake (Banh Pia)
The ingredients of Banh Pia can make the foreigners unlike because it has the smell of durian. If you are a Durian Lovers, try Banh Pia is a good memorable. It was made by green bean, durian, salted egg yolk. The smell of Banh Pia are very attractive by durian, follow the locals people, which one have most smell of durian, this is the best one.
The skin of Banh Pia are very interesting, the stuffing of it were covered by many crusts. Normally, many people can't stand the sweetness of it, following the local people style, after had a first bite they will drink a bitter of tea to balance your taste.
This cake is the local of Soc Trang province that's located in the South of Vietnam. This cake was affected by three ethnic groups: Hoa, Kinh, Khmer. The processing of baking this cake are very elaborate.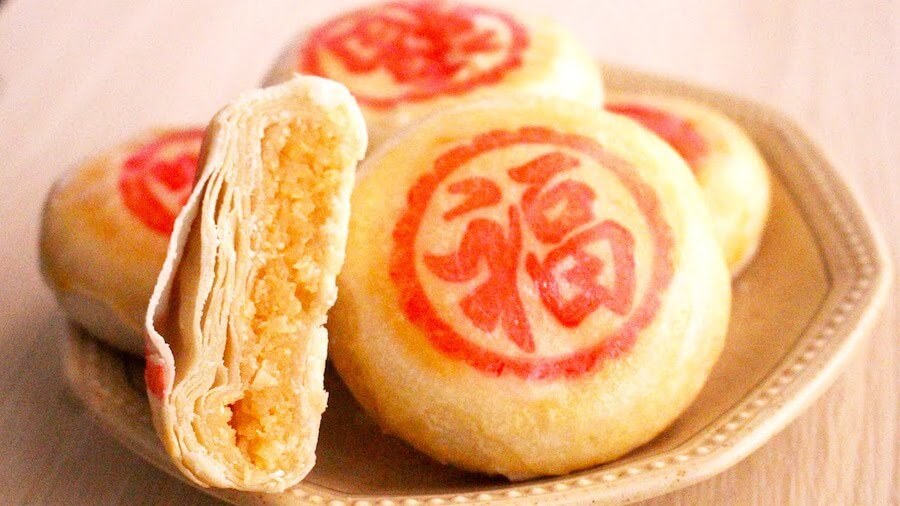 The place to eat Banh Pia in Saigon:
Tan Hue Vien Banh Pia, 116c Nguyen Thi Nho, District 5
Soc Trang Banh Pia, R52 Nguyen Huu Hao, District 4
Nhu Lan Banh Pia, 64 Ham Nghi, District 1
Dac San Mien Tay, 123 Bach Dang, Binh Thanh District.
4. Smoothies (Sinh To)
Almost people knew it already before, but in Vietnam, smoothies are difference than other countries such as fresh fruits, more sugar, more milk, especially is very cheap. You can choose a smoothy and combine the fruit by yourself with various of fruits like durian, apple, pomelo, coconut, water melon, carrot, tomato or vegetable, etc. Like you know before, Vietnamese people love sweet, they add more condensed milk and sugar then put an ice to make smoothies cooler.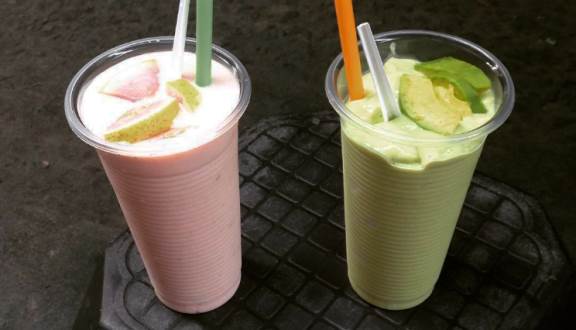 The best time to drink it is after lunch or on a night because the weather in Saigon so hot. Not only foreigners love it, local people love it too because it bring enough vegetables, fruits inside a drink. It sells around the street of Saigon. You should to remember, if you do not like too much sugar say: "khong duong" = No sugar, "it duong" = Less sugar.
Some of the must-try smoothies in Saigon:
Banana's Juice Shop, 102 Le Thi Rieng, District 1
Five Boys Number One Smoothies, 84 Bui Vien, District 1
The Juice Bar, 59 Hoa Su, Phu Nhuan District
5. Coconut Candy (Keo Dua)
Like I said before, Coconut is the main ingredient in Vietnam, it appears everywhere. Coconut Candy comes from Ben Tre province, this place that Vietnamese people know with the name "The country of Coconut". The locals people in here has a various products was made by coconut such as: coconut oil, coconut wine, coconut paper, coconut rice, coconut paper, coconut chair, coconut table, etc.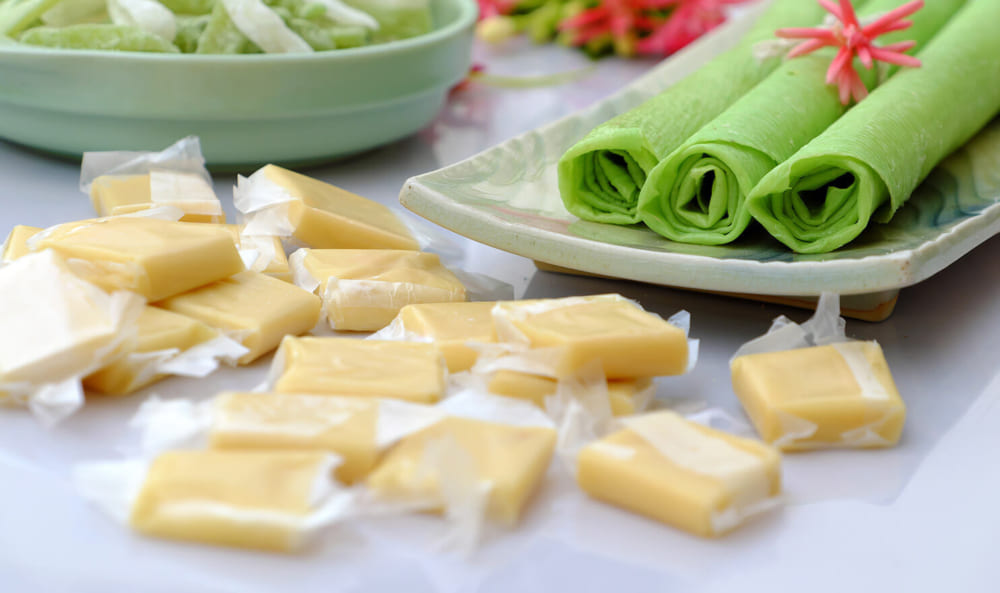 Back to the main character today, Coconut Candy are very popular with Vietnamese people, it sell everywhere. But the original taste come from Ben Tre. This Candy was made by coconut, sugar, malt syrup, etc. The taste of it are very sweet and smell of coconut, it very chew if you bite. When you open the wrap cover of candy, you will see the thin paper cover the candy, don't worry about it, just put all of it and feeling because you can eat this thin paper.
If you have chance, go to Ben Tre and visit the Keo Dua factory, you will see the process of working Keo Dua. You will get the sample of Keo Dua during it hot, it so sweet and good taste. If you can't go to Ben Tre but want to buy it in Sai Gon, I will give you the address to buy it for souvenir or eat.
Coconut Candy Ben Tre Ba Hai To, 33T2, Duong Ba Trac, District 8
Keo Dua Thanh Long, 67 Ngo Quyen, District 10
Recommendation:
Summary, there are five most Vietnamese desserts that you must try when visit in Saigon. Normally, you can easy to find all of it at District 1. However, you can ask the local people if you want to try it, they will give you the way to go to eat the real local taste. In addition, there are many Vietnamese desserts in the street that's not include in this list, you can try it if you are a food lovers. Vietnam is one of the country was listed on the world for the country has various of street food.