Getting fed up with a dull and repetitive life? Let's conquer the best Vietnam motorbike route to enjoy your life to the fullest!
Has this thought ever popped up in your mind: "The boring desk work is a real pain in the ass and I need a break from this!"? If the answer is YES (in big capital letters showing how desperate you are!), why not try something totally new by taking up the best Vietnam motorbike routes ever that can give you lots of stories to boast with your friends later on?
So where do you start? Which are the most attractive, challenging and rewarding motorbike routes for you to start exploring? Let's go and find out the top 3 destinations especially "born" for motorcyclists!
Discovering Y Ty (Sapa) – The Land Of The Clouds
There is nothing much to introduce about Sapa as it's a hugely crowded tourist destination of Vietnam. If touristy places are not your cup of tea, Y Ty is an ideal stop on your first Vietnam motorbike route.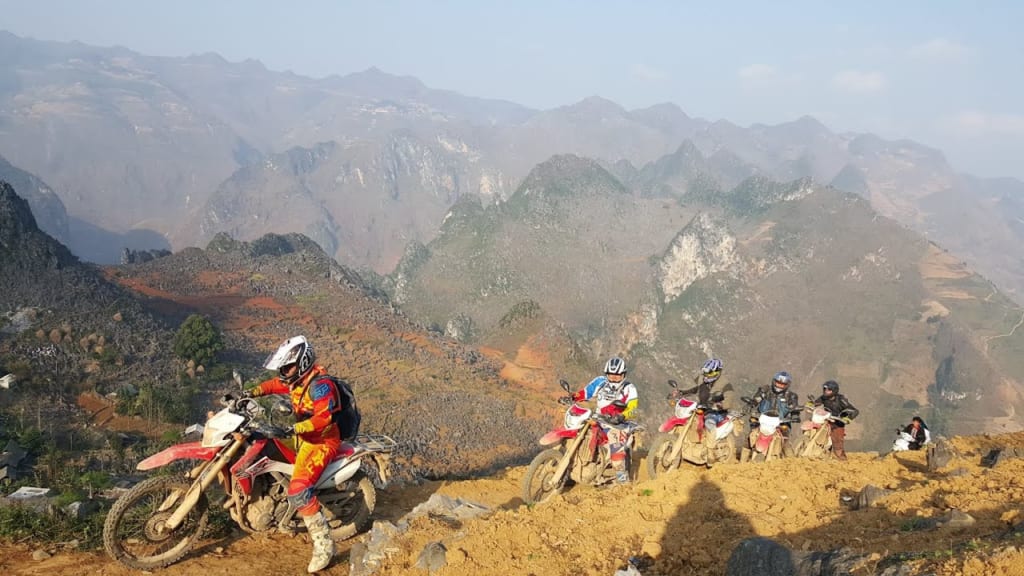 Motorbikes are considered the best vehicle for travelers to explore the stunning beauty of nature on the way. The journey to Y Ty challenges even the most skillful drivers with curved bends and winding mountainous roads, promising to bring the most exhilarating experience for adventure-seekers.
Located at the height of over 2,000 meters above sea level, Y Ty is shaped like a valley with its back supported by Mount Nhu Cu San whose peaks are covered in clouds all year round. Following the winding trails to the top of the mountain, you will experience a very unique feeling of being surrounded by the misty pure white clouds.
Apart from its breathtaking natural scenery, Y Ty has become an attractive destination bearing the identity of the Northwestern ethnic groups. Y Ty is mostly inhabited by Ha Nhi people, who have brought their special charm to this harsh and arid land with their unique houses called "trinh tuong".
If you are lucky enough, you can be invited to join in "Trum Chan" (Covering blankets) Festival with local inhabitants. The festival is held in the 6th lunar month every year for three days and is a place for gathering and enjoying the vibrant festival spirit.
Have you felt tired of "happiness" yet? Or do you wanna go back to the "not-so-boring" paperwork job? If your head is shaking continuously, let's continue with our mission of finding the best Vietnam motorbike route of all time!
Falling In Love With Mu Cang Chai (Yen Bai)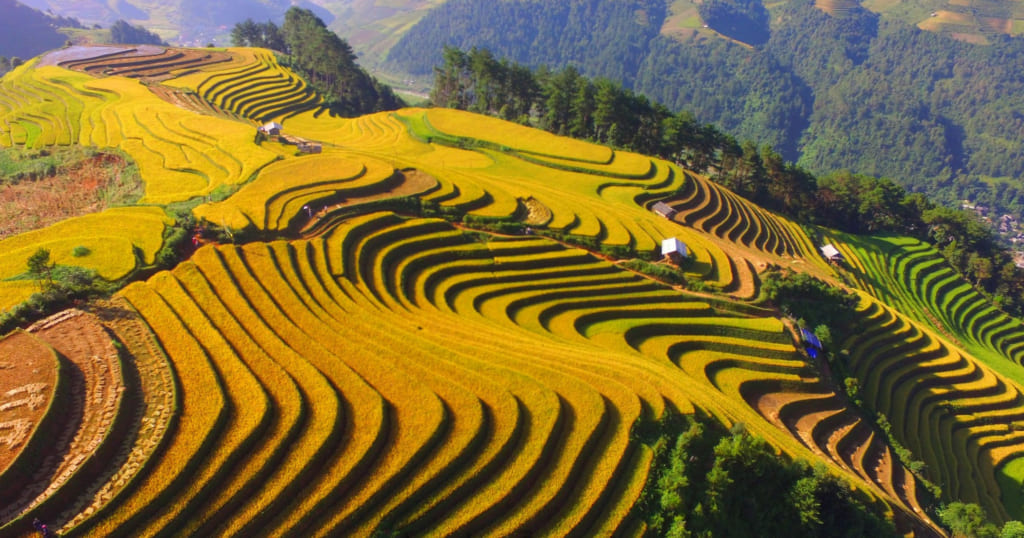 Believe me when I say this second stop on our motorbike routes is even more gorgeous than your exes! And I'm not making any exaggerations!
Mu Cang Chai – the land in the North West of Vietnam – enchants tourists by its irresistible charm as one of the most beautiful destinations. The place is well-known for the mesmerizing golden rice terrace fields that captured the attention and admiration of millions of tourists.
On your way to Mu Cang Chai, you will have chances to conquer Khau Pha Pass – one of the four majestic passes of Vietnam. The land's terrace fields with its wild, idyllic but stately beauty is the favorite source of inspiration of many photographers.
From high above, Mu Cang Chai is as stunning and attractive as a watercolor painting with its delicate green and yellow patterns, which has never failed to take your breath away.
Although the route to this mysterious land is full of dangerous bends and winding trails, the breath-taking beauty of nature is rewarding. From the valley of Muong Pho to Khau Pha Pass, the lively wave of golden color spreading on the mountainsides under the bright autumn sun is like a masterpiece bestowed to the Earth by Mother Nature.
Don't miss out on the Culture-Tourism week held every September to enjoy fascinating cultural events such as the highland market, Mu Cang Chai terrace field picture exhibition and goat fighting.
To fully discover the natural beauty here, you should have someone with the same passion to travel with you. So the best way is to take part in Vietnam motorbike tours in which you can get acquainted with and receive support from lots of experienced riders.
Can't wait to unveil the mystery over the last stop in our list of best Vietnam motorbike route?
Here it is!
Revealing The Secret Of Ha Giang – A Hidden Gem At The Northern most Of Vietnam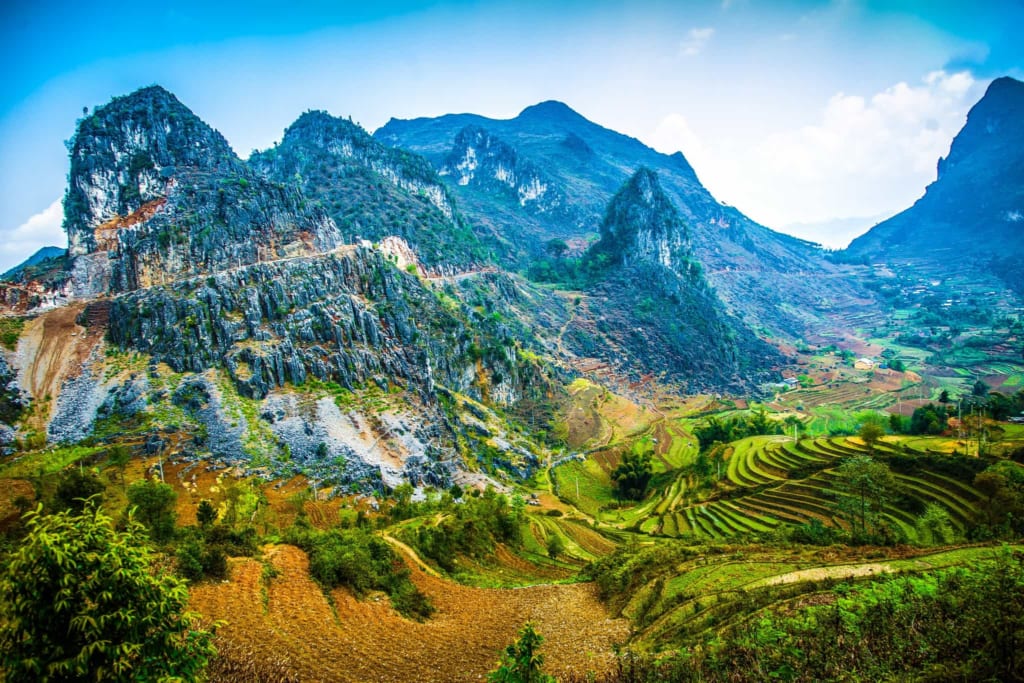 Possessing a majestic and unspoiled natural landscape, Ha Giang is one of the most appealing tourist destinations in Vietnam. Dong Van Plateau, with its striking and romantic sceneries as well as unique cultural features of the ethnic minorities, is definitely the top spot worth exploring in Ha Giang.
It would be a great mistake to think of Dong Van Plateau is an arid land with nothing more than rocks and mountains. In contrast, this is the land where the most beautiful flowers blossom and manifest their charming beauty all year round.
If the spring enchants travelers with lovely peach blossoms and charming white plums, the summer amazes explorers with the lively and endless rice terraced fields reflecting the clear blue sky.
Autumn comes with a new shiny golden blanket covering the whole Plateau while the grey cat-shaped mountain rocks standing in the highland's bitter cold burst into life with the sweet pink and purple of "triangle" flowers in the winter.
You will be wandering with your motorbike along the winding and crooked mountain paths and exploring the famous passes of the North like Ma Pi Leng Peak, Bac Xum Hill or Chin Khoanh Hill.
Besides, Lung Khuy Cave, to enjoy stalactites in different shapes and colors, and the 100-year-old Royal Residence, to immerse in the exciting history of Mong people, are the two destinations highly recommended.
Final Words
"You only live once"! So why are you wasting your beautiful life on doing something that you're not passionate about?
Brave yourself for the challenge and go on an unforgettable Vietnam motorbike route! I can assure you that you'll not regret any minute of it!